There is still a way to go to tackle the 95% of rare diseases without treatments and Rare Disease Day 2023 serves as an important reminder of the arduous tasks ahead required to design a brighter future for European people living with a rare disease.
Today, between 27 and 36 million Europeans experience living with a rare disease. Every Rare Disease Day – taking place on 28 February – puts the spotlight back on the complexities surrounding rare diseases. On a daily basis, patients, clinicians, policy-makers, and researchers commit themselves to advocating for and working to develop therapies for people living with a rare disease. This is an opportunity to take stock of that work and galvanise public and political interest to campaign for better resources and spur on innovation. The focus of Rare Disease Day 2023 is equity, as some people with a rare disease can still experience treatment inequality, misdiagnosis and isolation.
This year's Rare Disease Day comes at a crucial time, weeks before the expected publication of the Pharmaceutical Package which will revise the General Pharmaceutical Legislation, Paediatrics and Orphan Medicinal Products (OMP) Regulations. This revision will set the tone for EU rare disease drug development for at least the next two decades. In combination with the theme of this year's Rare Disease Day, it outlines the need for a holistic and systemic design approach to tackling rare diseases.
There is no single solution or policy option that will solve the 95% problem. This requires a carefully calibrated ecosystem that looks at both the full patient experience as well as the full product development cycle. Different solutions and policy options are required that work in unison without contradicting themselves. A shared vision or EU Rare Disease Action Plan is one way that supposedly disparate policy options can be brought together into a single mission. Overcoming the challenges faced by people living with rare diseases will require action at the local, national, and EU levels by a range of stakeholders. EUCOPE believes there are several areas where the EU can take action to address the 95% of rare diseases without an authorised therapy and foster an innovative EU rare disease ecosystem.
Newborn screening and genetic testing
For people with rare diseases, it takes on average four to five years, and in some cases over a decade, before they receive a correct diagnosis. This delay between diagnosis and time to treatment can have major implications. In addition, 80% of rare diseases are genetic in origin and are often chronic, present in childhood, and life-threatening. Combined, these factors further illustrate the importance of newborn screening (NBS) in order to ensure people can receive the therapies they need as early as possible. Regrettably, significant disparities exist between Member States, both regarding the number and the diseases for which they are screened. EU guidelines on newborn screening and genetic testing, including which disease areas to be tested for, is a clear area in which the EU can drive change.
In late 2022, the multi-stakeholder TRANSFORM Alliance published its Charter for EU Cooperation to Enable Safe and Timely Access to Advanced Therapy Medicinal Products (ATMPs), that outlined a range of policy options, including a call for newborn and genetic testing. Creating an EU-wide platform on newborn screening for rare diseases, assisting Member States in having a much better-informed assessment of a new NBS technique and positioning the EU as the central point for data collection and information on rare diseases newborn screening practices are just some of these overarching solutions.
Cross-border Healthcare and the ERNs
To support access to innovative therapies, especially for people with rare diseases and when discussing innovative therapies such as ATMPs, the EU's cross-border framework and the European Reference Networks (ERNs) are essential and underutilized. Due to infrastructure requirements, expertise, or the size of a patient population, relocating or crossing borders often represents the only solution for many patients.  A well-developed and highly functioning cross-border healthcare framework at the EU level is essential to provide access to needed life-saving and life-transforming therapies.
The cross-border healthcare directive and Social Securities (S2) regulation are the main avenues by which people can seek treatment outside their home country in Europe. Although these will not be revised in the coming years, action can be taken to better implement the legislation and utilise the frameworks they provide. Chief among these include the National Contact Points. These pathways will become increasingly important as the number of transformative therapies grows.
Time delays can be a major obstacle to potentially life-saving and life-transforming treatments, with potentially significant consequences for patients. A number of stakeholders, including EUCOPE, have outlined how the cross-border framework can be improved and optimised.
Revision of the EU Pharmaceutical Package
The planned revision of the OMP legislation is the most significant rethink of the EU's orphan regulatory landscape in two decades. The decisions made during this process will impact the direction of research and development for the coming decades and by extension, millions of lives. The OMP Regulation should be seen as part of a wider rare disease ecosystem. It has a specific purpose, and will not address all of the challenges and shortcomings in the rare disease space, but it will play an important role.
The revision should ensure that the EU continues to drive investment and research, ensuring that all patients can benefit from innovation. This requires a carefully calibrated incentive framework. Concepts such as High Unmet Medical Need (HUMN) and launch conditionality would introduce unpredictability and additional risk into the system. Both transformative therapies, as well as incremental innovation, can play important roles in addressing the needs of people living with a rare disease. As part of the review, we should ensure that the system continues to develop therapies for all who can benefit from innovation, without overlooking the needs of a diverse patient population.
The time is now
While we have seen a lot of progress in treating and addressing the needs of people living with rare diseases, we find ourselves at an important crossroads on Rare Disease Day 2023, given the upcoming revision of the OMP Regulation. However, this is only part of the conversation and we should not lose sight of the broader picture.
For 15 years, EUCOPE's commitment has been to lead and engage in partnerships spanning the entire rare disease medicine lifecycle to find actionable solutions that benefit our members, the patients they serve and healthcare systems overall. By fostering collaboration between different stakeholders across the ecosystem, we can develop novel therapies and address the unmet needs. Multi-stakeholder partnerships such as the OD Expert Group and Together4RareDiseases embody these principles which are echoed by the recent launch of the Rare Disease Moonshot initiative.
On 28 February 2023, we celebrate Rare Disease Day to raise awareness and generate change for the 300 million people worldwide living with a rare disease, their families and carers. However, we must remember that living with a rare disease is a full-time endeavour so we – as industry and policy-makers – must continue to work hard to create a predictable ecosystem that supports early diagnosis, improves access and fosters care for the 30+ million people living with a rare disease in Europe.
---
For more information on Rare Disease Day 2023 and some further measures we can take to improve time to diagnosis and access to treatments, please listen to our recent podcast on the subject with Simone Boselli, Director of Public Affairs, EURORDIS – Rare Diseases Europe.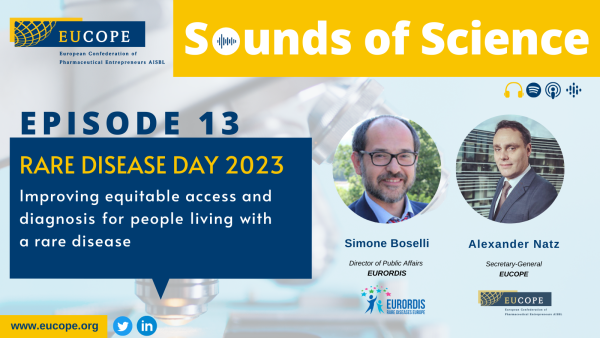 February 22, 2023